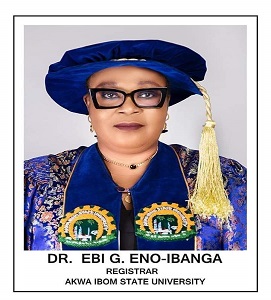 The Registrar, Dr. Ebi G. Eno-Ibnaga was born in the City of Benin. She attended the Bendel State University, Ekpoma, and has a Bachelor of Education degree in French. In her quest for further education, Dr. Ebi registered for postgraduate studies in the Benue State University; where she obtained Masters Degree in Education Management and also obtained Ph.D in Educational Administration and Planning from the Nassarawa State University in 2012.

She has served in many professional & Administrative capacities in the following Establishments:
Dr. Ebi has carried out many Administrative Assignments in the University system and has attended many Conferences/Workshops. She has also published papers mainly in Administrative/Management highlighting her experiences as an Administrator in the University system
The Akwa Ibom State University Laws makes provision for the Office of the Registrar. By virtue of this, the Registrar is the Chief Administrative Officer of the University, responsible for advising the Vice-Chancellor on the day-to-day administrative affairs of the University.
The Registrar is the head of the Registry of the Akwa Ibom State University, which is the integral part of the University. The Registry custodies all records, values, traditions; implements policies, rules and regulations of the University.
The Registry is made up of the following Directorates with their Divisions/Units operating under her supervision. These includes:
i. Directorate of Academic Affairs
ii. Directorate of Council Affairs
iii. Directorate of General Administration
iv. Directorate of Human Resources
In addition to the above, Legal Services Unit operates under the direct supervision of the Registrar. Also the Registrar has staff members serving various arms of the University and reporting on the professional matters. These includes:
i. Secretary, School of Postgraduate Studies
ii. Head of Administration, Obio Akpa Campus
iii. Student Affairs officer
Furthermore, the Registrar is the Secretary to Council, Senate, Congregation and Convocation.
STRATEGIC PRIORITIES
Mission Statement
To adopt modern day technology which will propel high performance among administrative staff members for excellent ethical and professional service delivery and provide well trained core administrators for attainment of the University development.
Vision Statement
To build a robust Registry with up-to-date administrative best practices which will equip all cadre of staff members on the core administrative principles, policies, laws, rules, regulations and most importantly records keeping.
NEWS
Program/Activities held in the school
a. 1st – 11th Matriculation Ceremony
b. 1st – 5th Convocation Ceremony
c. 1st and 2nd Registry Lecture;
i. Topic: University and the Role of the University in the Nigeria in the 21st century, held on January 22, 2019
ii. Topic: Beyond the Walls; the University of the Future, held on May 3, 2020
d. Administrative Training/workshop held from 15th – 18th May, 2018
e. Inaugural Lecture
STAFF PROFILE IN THE REGISTRAR'S OFFICE
| | | | | |
| --- | --- | --- | --- | --- |
| S/N | NAME | DESIGNATION | PHONE NUMBERS | E-MAIL ADDRESS |
| 1 | Dr. Ebi G. Eno-Ibanga | Registrar | +2348034136455 | |
| 2 | Barr. Ekomobong W. Afiah | Senior Assistant Registrar | +2348023859252 | ekomobongafiah@aksu.edu.ng |
| 3 | Mrs. Ofonmbuk E. Ibanga | Principal Executive Officer I | +2348063604604 | ofonmbukmmeti@aksu.edu.ng |
| 4 | Mrs. Anietie U. Akpan | Personal Secretary I | +2347088906911 | anietieakpan@aksu.edu.ng |
| 5 | Mrs. Aniema E. Enoh | Principal Executive Officer II | +2347039180786 | aniemaenoh@aksu.edu.ng |
| 6 | Mr. Ndifreke E. Udoh | Personal Secretary II | +2347031247082 | ndifrekeudoh@aksu.edu.ng |
| 7 | Mr. Michael M. Bassey | Chief Office Assistant | +2348169911956 | |