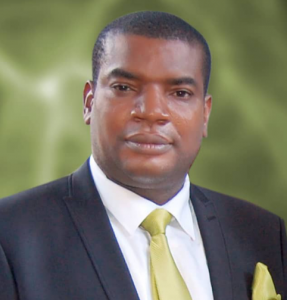 The objectives of the Faculty of Agriculture
a) To produce agricultural-based graduates geared towards self-employment
b) To produce graduates with sufficient technical, productive, and entrepreneurship skills who will be involved in production, research, and entrepreneurship in any aspect of agriculture and other related disciplines;
c) To produce graduates that are relevant to themselves, the industry, and society and who can contribute effectively to national development goals in Agriculture.
Philosophy of Faculty of Agriculture
The Faculty is mandated to produce graduates that are adequately equipped with the comprehensive theoretical knowledge and practical skills required for engaging in productive and economic agricultural production.
Dr. Sunday Brownson Akpan is an Associate Professor of Agricultural Economics and currently the acting Dean of the Faculty of Agriculture, Akwa Ibom State University. He obtained his first Degree (B.Agric.) in 2002 from the University of Calabar and a Master of Science (MSc.) degree in Agricultural Economics from the University of Uyo in 2007.

He acquired a Ph.D. degree in Farm Management and Production Economics in 2012 from the Department of Agricultural Economics, Michael Okpara University of Agriculture Umudike, Abia State. He has contributed to the advancement of the agricultural economics discipline through publications of several research outputs in both local and International Journals. Previously, he held several administrative positions in the Faculty of Agriculture including; examination officer and Head of the Department of Agricultural Economics and Extension and Postgraduate Coordinator in the Faculty of Agriculture as well as being a member of the Faculty accreditation team among others.

Dr. Sunday B. Akpan has won several academic awards and supervised both undergraduate and postgraduate students in Agricultural Economics Discipline. He is a consultant to government and non-governmental agencies and a member of professional bodies as well as an editorial member in several reputed local and internal journals.
| S/no | Department | Subjects Requirements |
| --- | --- | --- |
| 1 | Agricultural Economics and Extension | At least five (5) credit passes in English Language, Biology or Agricultural Science, Chemistry, Mathematics and any one of Geography or Economics and at least a pass in Physics. |
| 2 | Animal Science | At least five (5) credit passes in English Language, Mathematics, Biology or Agricultural Science, Chemistry and one of Physics, Geography or Economics. A candidate with 6 credit passes at not more than 2 sittings but a pass in Physics may be admitted. |
| 3 | Crop Science | At least five (5) credit passes in English Language, Mathematics, Chemistry, Biology or Agricultural Science, and Physics. A candidate with 5 credit passes at not more than 2 sittings but a pass in Physics may be admitted. |
| 4 | Soil Science | At least five (5) credit passes in English Language, Mathematics, Biology or Agricultural Science, Chemistry and Physics at not more than 2 sittings. |
| 5 | Fisheries and Aquaculture | At least five (5) credit passes in English Language, Chemistry, Biology or Agricultural Science, Mathematics and Physics or Geography or Economics at not more than 2 sittings. |